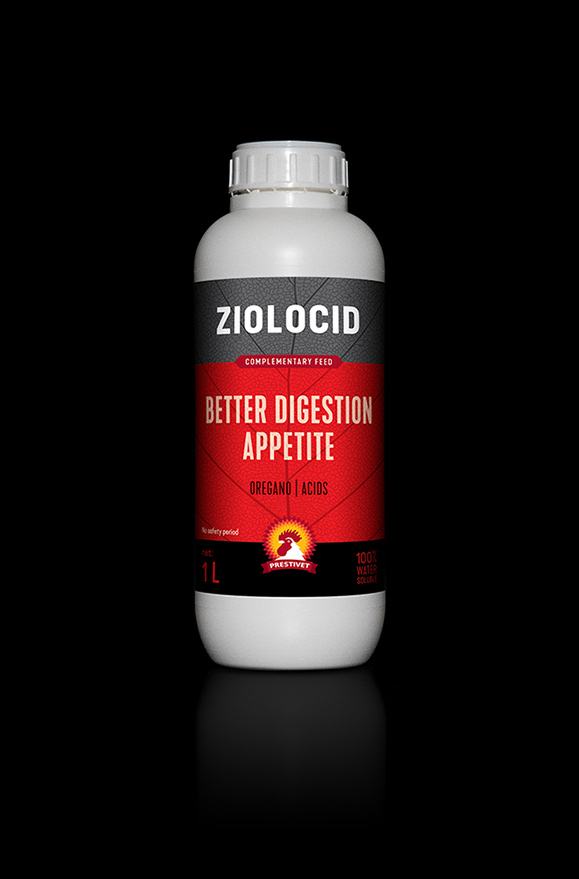 Complementary feed
ZIOLOCID
acids & oregano
ZIOLOCID is an innovative combination of properties of acids contained in the formulation and the oregano extract. Lowering pH of the content of the digestive tract supported by oregano properties stimulates development of natural intestinal micro flora, simultaneously improving digestibility and utilization of nutrients contained in fodder. Administration of ZIOLOCID directly impacts improvement of the growth rate and has beneficial effect on the digestive tract of animals.
indications
change of feed
decreased appetite and rate of growth
indigestion of different etiology
occurrence of the "wet bedding" effect
during antibiotic treatment to regenerate the intestinal villi
instructions for proper use
preventively: 500-1000 ml / 1000 L of drinking water, 8-12 h a day, for 5 days
after antibiotic treatment or in case of interventional administration: 1500 ml / 1000 L of drinking water, 8-12 h a day, for 2-3 days
caution!
Please, get a look at the label.
composition
mixture of preservatives (eg organic and inorganic acids), mixture of flavouring compounds (e.g. plant extracts and/or oils), copper, potassium, sodium