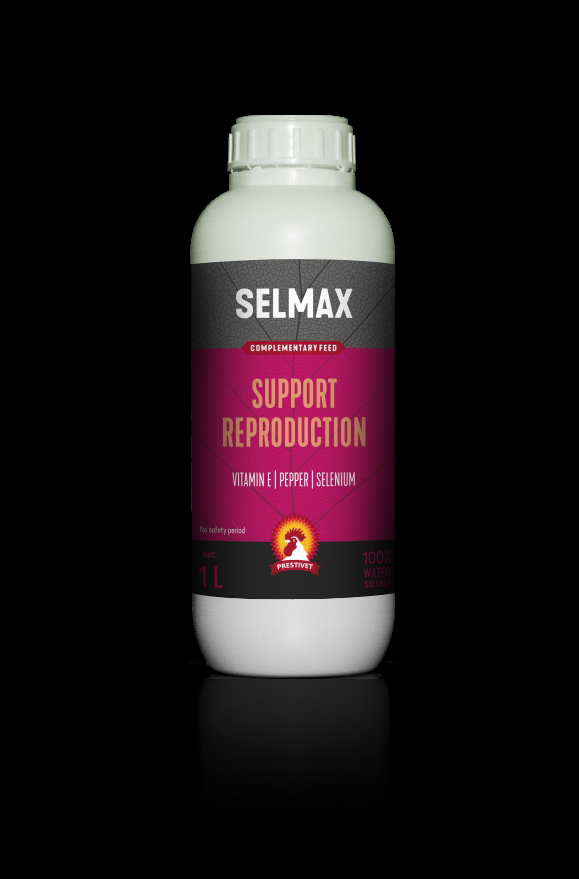 Dietetic complementary feed
SELMAX
SUPPORT REPRODUCTION
SELMAX is a preparation supplementing the diet of animals with vitamin E and selenium, which support the proper functioning of muscle tissue, nervous tissue and blood vessels. It strengthens the protection of cells against free radicals, stimulates the reproductive system and can reduces the risk of heart attacks and muscle degradation. Vitamin E affects the reproductive capacity, preventing male infertility and increasing the hatching capacity of eggs, and thanks to selenium, vitamin E is more easily absorbed by the animal's organism.
indications
supplementing animals' diet with vitamin and selenium,
in the case of vitamin E and selenium deficiency,
during the vaccination period,
intensive reproductive use,
to reduce the risk of sudden heart attacks,
increase reproductive capacity,
strengthen the circulatory system
instructions for proper use
Prophylactically: 100 ml/ 1000 L of drinking water, 6 - 12 h a day, for 4 - 6 days
Interventionally: 200 ml/ 1000 L of drinking water, 6 - 12 h a day, for 4- 6 days
caution!
Please, get a look at the label.
composition
vitamin E, sodium selenite, mixture of flavouring compounds (e.g. turmeric extract, pepper extract), propylene glycol