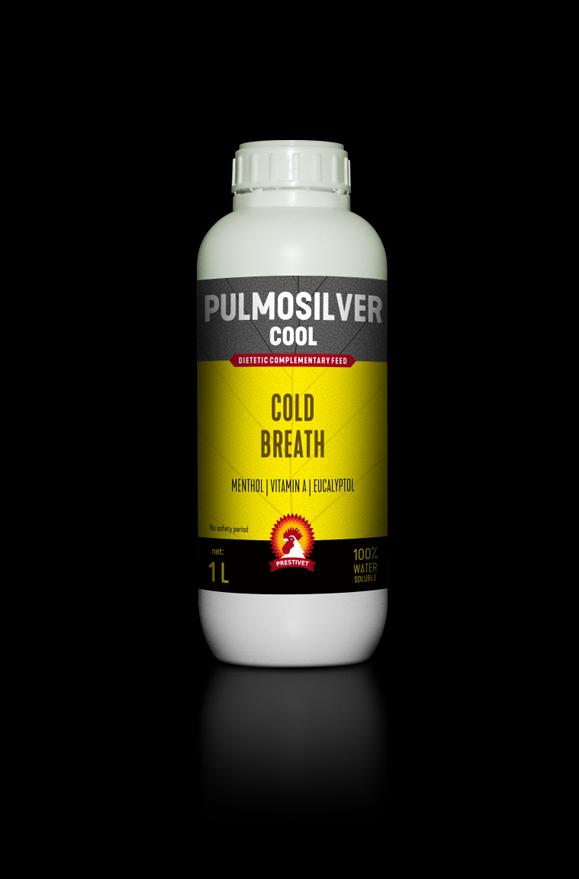 Dietetic complementary feed
Pulmosilver Cool
the source of cold breath
PULMOSILVER COOL is a special vitamin and herbal preparation created in thinking of supporting the upper respiratory system during hot weather. Active herbal substances enhance coughing up reflex, facilitating excretion of secretions with harmful dust that build up in the respiratory tract. At the same time, acts diastolic on respiratory system muscles, supporting breathing and ventilation of the body, and thanks to the high content of menthol they allow for the effect of "ICE" - body cooling. PULMOSILVER COOL contains vitamin A, which prevents drying and keratosis of the mucous membranes, it regenerates cells, thus securing the place of damage and irritation, and promotes maintenance of the physiological state of the mucous membranes.
indications
improving the comfort of breathing and respiratory system efficiency during hot weather
adverse environmental conditions (high temperature, dust, high concentrations of harmful gases such as NH3, H2S)
reducing irritation of the respiratory tract caused by excessive dust
pollution of the upper respiratory tract
regeneration of the mucous membranes
instructions for proper use
to drink: 200 ml / 1,000 L of drinking water, 8-12 h a day in the morning, for 3-5 days
in spray: 200 ml / 10 L of water, 2 times a day, for 3-5 days
caution!
Please, get a look at the label.
composition
vitamins (A, E), mixture of flavouring compounds (e.g. plant extracts and/or oils), propylene glycol, glycerin