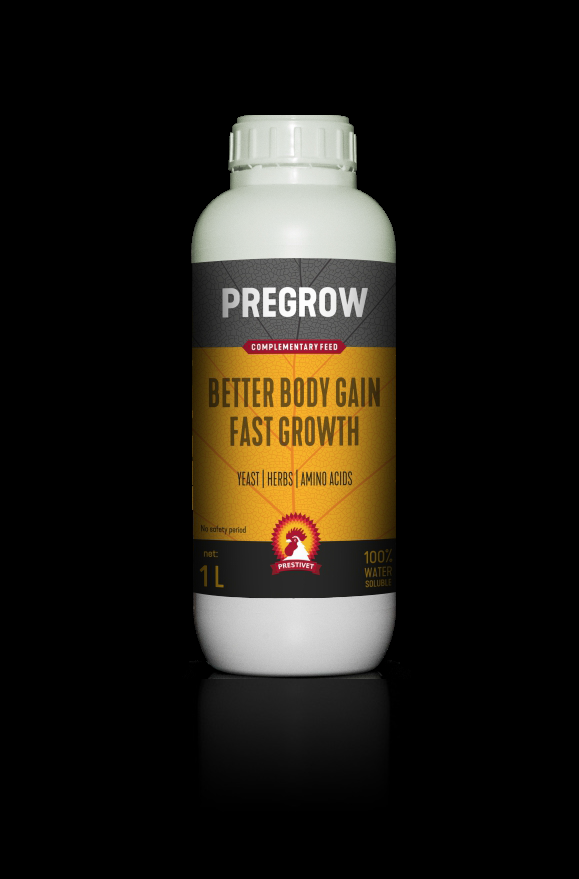 Complementary feed
PREGROW
BETTER BODY GAIN, FAST GROWTH
PREGROW is a preparation with the properties of using the maximum potential of the growth of the body of animals during the fattening period and the ability to stimulate the processes of digestion and assimilation of nutrients. Its use reduces the risk of liver dysfunction, ensures the growth and regeneration of intestinal villi and intestinal epithelium due to a specially selected composition of yeast metablites and medium-chain fatty acids. In addition, the preparation enriches the diet of animals with a complex of amino acids, thanks to which the provided building components support the body with proper growth.
indications
increasing and accelerating body gain,
improving daily body gain,
improving appetite and feed conversion,
strengthening the functioning of the gastrointestinal tract,
reducing the risk of fatty liver syndrome,
improving the quality of animal meat,
during the convalescence period
instructions for proper use
Broiler: 500 ml / 1000 L of drinking water, for 4-5 days in the 3rd and 5th weeks of fattening.
Turkey / Pigs: 500 ml / 1000 L of drinking water, for 4 - 5 days once a month, starting from the 2nd month of fattening.
Broiler / Turkey: 500 ml / 1000 L of water, for 3-4 days after dressing.
caution!
Please, get a look at the label.
composition
medium-chain fatty acids, Saccharomyces cerevisiae yeast metabolites, mixture of flavoring compounds (e.g. pepper, turmeric, milk thistle, oregano), lysine, methionine, threonine, tryptophan, organic and inorganic acids