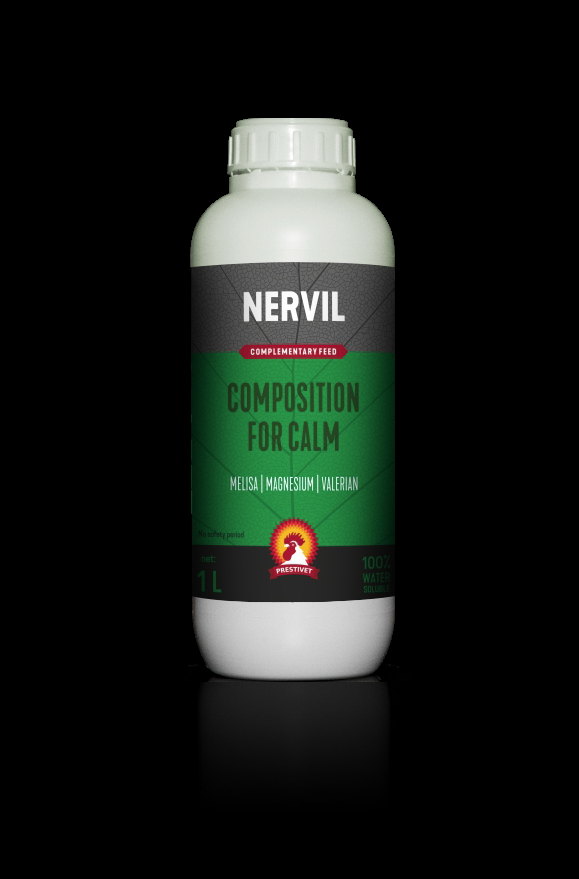 Complementary feed
NERVIL
COMPOSITION FOR CALM
NERVIL is a preparation consisting of synergistic herbs with a calming effect on animals, which is perfect for stressful situations. The composition includes B vitamins, magnesium and herbal extracts which can reduce stress, lemon balm has a relaxing effect, and hop cones, effectively calming the animal. NERVIL is especially effective in the case of changes in facilities, transport of animals, veterinary and zootechnical procedures, reducing stress, at the same time and reducing weight loss.
indications
in a situation of cannibalism
aggression and hyperactivity of animals
against stressful situations such as transport or veterinary-zootechnical procedures
when changing the facility
when changing feed
increased morbidity
when silencing and calming animals
instructions for proper use
400 ml/ 1000 L drinking water, half the amount of water drunk daily, for 3 - 5 days, or until the stress factor is over. In the event of an emergency dosing, the dose may be increased to 600 - 800 ml/ 1000 L water for 1 - 2 days and then revert to standard dosing.
caution!
Please, get a look at the label.
composition
mixture of flavouring compounds (e. g. lemon balm, valerian), vitamin B1, niacinamide, vitamin B6, magnesium chelate, glycol, glycerin