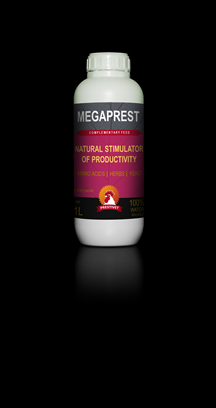 COMPLEMENTARY FEED
Megaprest
a natural productivity stimulator
MEGAPREST is a concentrate of yeast extract, amino acids as well as herbal extracts and oils. Herbal substances contained in the preparation strongly stimulate and improve functioning of a digestive system, ensure greater digestibility and absorption of nutrients and promote proper microflora. Concentrated yeast extract is a rich source of easily digestible amino acids, vitamins - especially from B group as well as micro and macro elements. Thanks to pro- and prebiotic effect, MEGAPREST improves microbiological balance of a digestive tract, regulates digestive processes and positively influences physiological and immune processes.
Collagen hydrolysate is a source of easily digestible amino acids that contribute to proper growth and development of young birds and to proper productivity.
indications
broilers:


improved appetite and feed conversion rate - FCR
muscle growth stimulation
flock alignment, improvement of a final production result
on the first days of life to increase animals' vigour and vitality

lying hens:

increase in egg laying, egg weight and improvement of their quality
reduced ammonia emission and improved conditions in the hen house
instructions for proper use
200 - 250 ml / 1000 L of drinking water in half of water amount drunk during the day, for 3 - 5 days
caution!
chicken broiler: use from the 3rd week of life
turkey broiler / swine: use from the 5th week of life
composition
propylene glycol, Saccharomyces cerevisiae yeast metabolites, hydrolyzed protein, glycerin, lysine HCl, methionine, threonine, tryptophan, a mixture of flavouring compounds (e.g. plant extracts and/or oils)