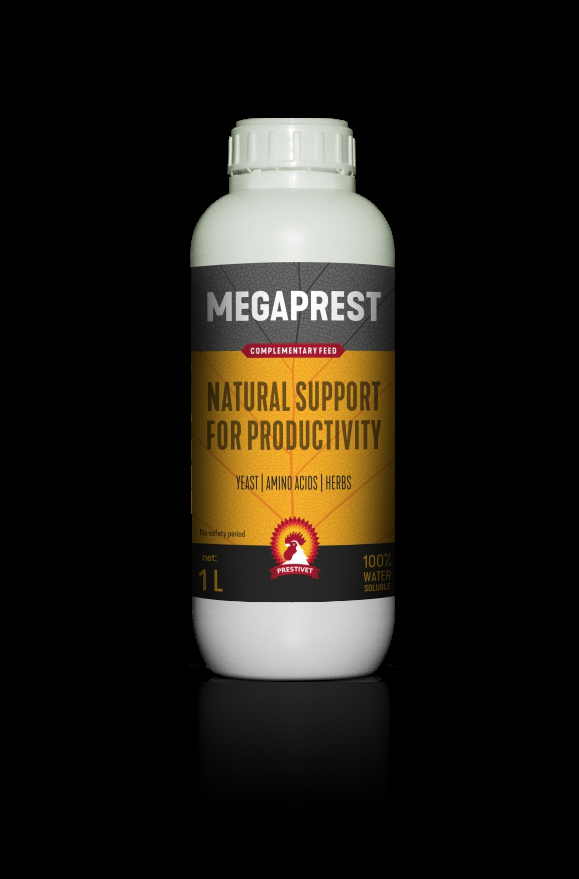 COMPLEMENTARY FEED
MEGAPREST
NATURAL SUPPORT FOR PRODUCTIVITY
MEGAPREST is a concentrate of yeast extract, amino acids and herbal oils that stimulate and improve the functioning of the digestive system, increase digestibility and the absorption of nutrients. The ingredients contained in the preparation are a source of easily digestible vitamins and amino acids, and the probiotic and prebiotic effect of the preparation maintains the balance of the gastrointestinal microbiology, regulates digestion and strengthens the body's immunity. The product also has hydrolyzed protein which provides amino acids that support the rapid and proper growth of the animal organism, which contributes to productivity.
indications
improvement of the feed conversion ratio and the animal's appetite
stimulation of muscle tissue for growth
improvement of the final production result
after gastrointestinal diseases
instructions for proper use
200 - 250 ml/ 1000 L drinking water, half the amount of water consumed daily, for 3 - 5 days.
caution!
Chicken broiler: use from the 3rd week of life
Turkey broiler / swine: use from the 5th week of life
composition
mixture of flavoring compounds (e.g. pepper extract), lysine, methionine, threonine, tryptophan, hydrolyzed protein, yeast metabolites of Saccharomyces cerevisiae, propylene glycol, glycerin