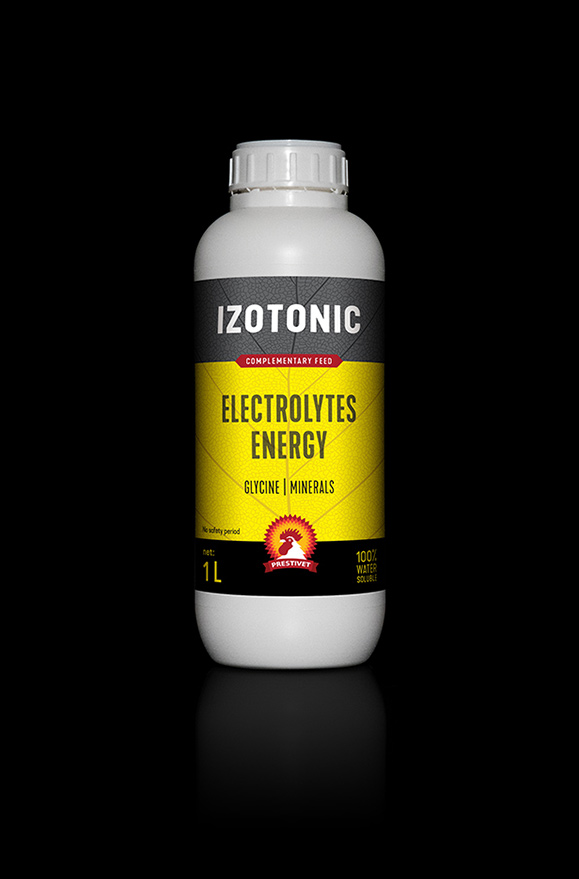 Complementary feed
IZOTONIC
dehydration and loss of fitness
IZOTONIC is an effective combination of several electrolytes: sodium, potassium, magnesium, betaine, which restore body homeostasis disturbed by adverse environmental factors. Electrolytes contained in the product perfectly supports the body in fighting stress, while betaine helps maintain the osmotic balance of the body. Flavoring substances contained in the product improve the taste and smell of water, increasing its consumption by animals. IZOTONIC ensures a high level of hydration of tissue and compensates for shortages caused by stress (high temperatures, transportation, diarrhea).
indications
thermal stress during high temperatures and low humidity
disorders of water and feed intake caused by high temperatures
dehydration and loss of fitness caused by electrolyte deficiency and loss of mineral salts
first hours after placing animals at a facility
last days of life to limit losses of body weight during transport to the slaughterhouse
increasing intake of water after treatment and vaccinations
supporting renal function
instructions for proper use
500 ml / 1000 L of drinking water, 12 h a day, for 5 days
caution!
Please, get a look at the label.
composition
betaine, vitamin C, mixture of flavouring compounds (e.g. plant extracts and/or oils), mixture of preservatives (eg organic acids), glycine, dextrose, sodium, potassium, magnesium