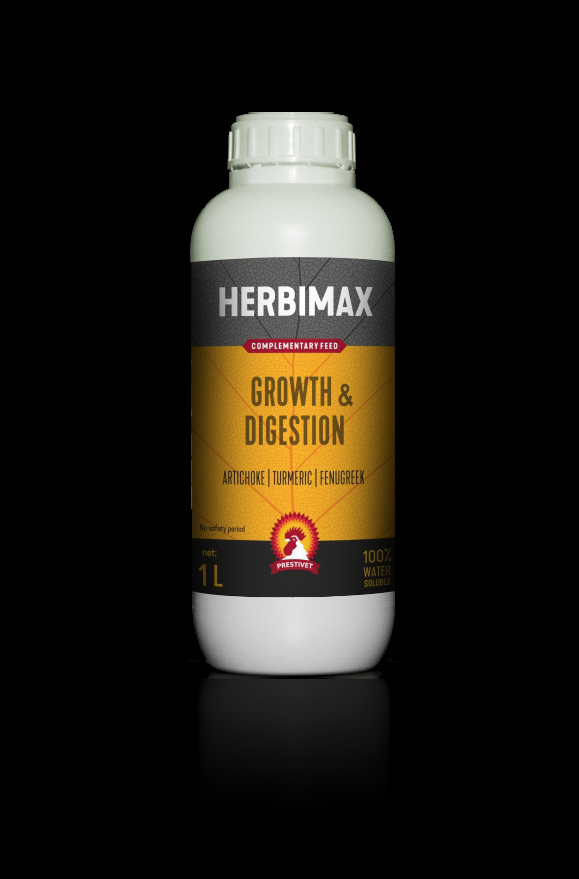 Complementary feed
Herbimax
GROWTH & DIGESTION
HERBIMAX is a composition of many active herbs, which is a natural alternative to antibiotic growth stimulants. Its main function is to stimulate the digestive system to secrete enzymes and digestive juices, increase the digestibility and absorption of total protein, starch and fats. Among other things, it has a choleretic effect and strengthens blood circulation within the digestive system, can supports the processes of detoxification and elimination of harmful metabolites from the body. It stimulates the intestinal villi to grow, supporting the proper microflora (for example Lactobacillus), thanks to which the number of pathogenic bacteria (such as E. Coli, Salmonella, Clostridium perfringens) is reduced.
indications
obtaining a higher final body weight,
shortening the fattening period,
improving the feed conversion ratio - FCR,
maintaining proper microflora and enhancing the development of intestinal villi,
reducing the occurrence of diarrhea and indigestion and reducing the growth of pathogenic bacteria
instructions for proper use
Broiler: 75 - 100 ml/ 1000 L of drinking water for 4 - 5 days (from 3 weeks of age).
Turkey: 100 - 150 ml/ 1000 L of drinking water for 4 - 5 days then cyclically every 2 - 3 week during fattenig (especially during the coral period - cyclically every 10 days).
caution!
Please, get a look at the label.
composition
mixture of flavoring compounds (e.g. artichoke extract, fenugreek extract, turmeric extract), propylene glycol, glycerin