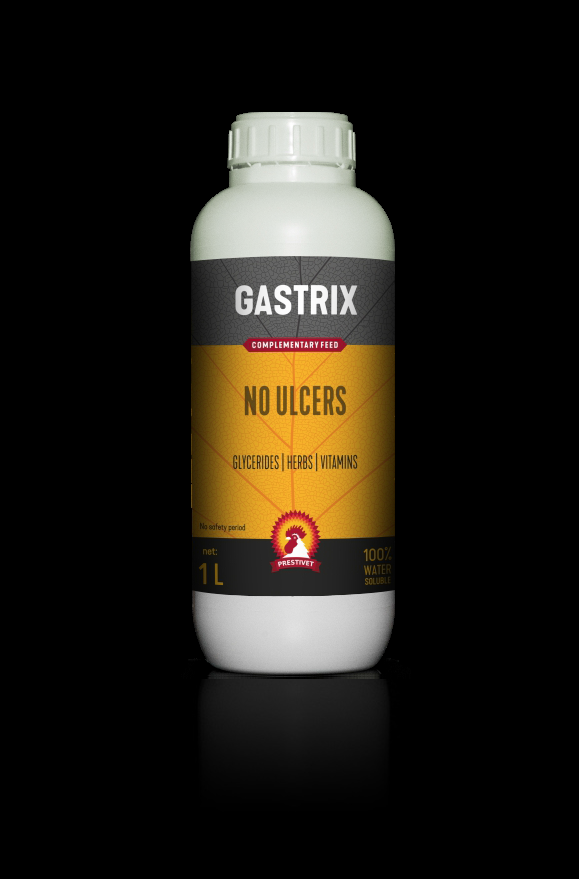 Complementary feed
Gastrix
NO ULCERS
GASTRIX is an effective preparation that, when used prophylactically and during therapy, supports the body in inflammation of the intestines and stomach ulcers. The preparation contains mono-, di- and triglycerides of butyric acid, thanks to which the intestinal villi can are stimulated and grow in length and density, and the intestinal walls and gastric mucosa regenerate faster. Vitamin E contained in the preparation the inhibition of inflammation, vitamin K helps to stop micro-bleeding, and the complex of B vitamins reduces the stress level.
indications
ulcers and erosions of the gastric mucosa,
infections and inflammation of the intestines,
supporting the period of intensive development and growth,
improvement of nutrient absorption,
improved feed conversion and the final production result
instructions for proper use
500 ml / 1000 L of drinking water, for 7-10 days
caution!
Please, get a look at the label.
composition
vitamin B1, vitamin B2, niacinamide, panthenol, vitamin B6, vitamin B12, vitamin K3, selenium, mixture of flavoring compounds (e.g. licorice extract, fenugreek extract, oak extract, turmeric extract, linseed extract), butyric acid glycerides