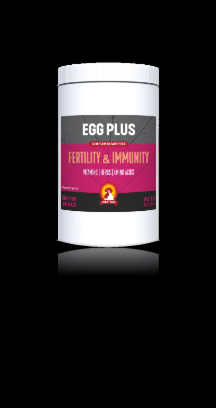 COMPLEMENTARY FEED
EGG PLUS
FERTILITY & IMMUNITY
EGG PLUS is a product that strengthens the muscular, nervous and blood vessels systems. It stimulates and supports the body's calcium and phosphorus balance and the metabolism of unsaturated fatty acids. The high-quality ingredients contained in EGG Plus protect cells against slow disintegration and strengthen the immune and reproductive systems.
indications
increases reproductive abilities and fertility
improves the quality of embryos
reduces embryo mortality
increases hatchability
has a positive effect on the digestive process
effectively strengthens the immune system
instructions for proper use
500 g/ 1000 L of drinking water.
caution!
Please, get a look at the label.
composition
dextrose, sodium chloride, vitamin A, vitamin D₃, vitamin B1, vitamin B2, niacinamide, pantothenate, vitamin B12, biotin, vitamin C, vitamin E, folic acid, vitamin K₃, lysine, methionine, selenium, mixture of flavouring compounds, colloidal silica