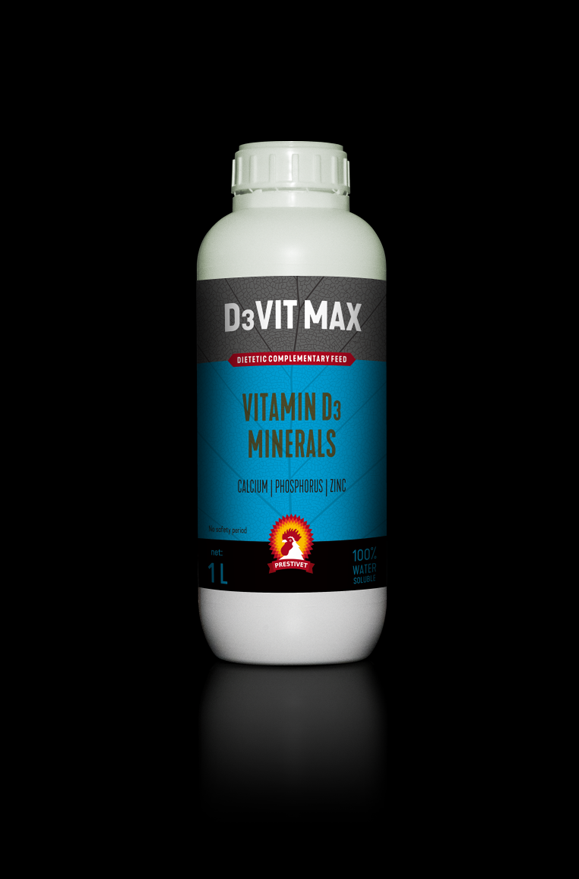 Dietetic complementary feed
D3 VIT Max
vitamin D3 and minerals
D3 VIT MAX is a effectively balanced preparation supplementing animal diet, containing D3 vitamin and micro and macro elements: calcium, phosphorus, magnesium, zinc, copper and manganese. The composition of minerals and vitamin D3 improves the use of minerals in the body, positively impacting bone mineralization processes as well as improving eggs production and eggshell quality. Supports preparations for oestrus and reproduction.
indications
during the period of most rapid growth
in disorders of bone and eggshell mineralization
at the peak of egg production
in case of poorly balanced diet (Ca:P ratio disorder)
instructions for proper use
preventively: 250 ml / 1000 L of drinking water, for 3-5 days
interventionally: 500 ml / 1000 L of drinking water, for 3-5 days
caution!
Please, get a look at the label.
composition
vitamin D3, copper, manganese, zinc, mixture of flavouring compounds (e.g. plant extracts and/or oils), calcium, magnesium, phosphorus, sodium