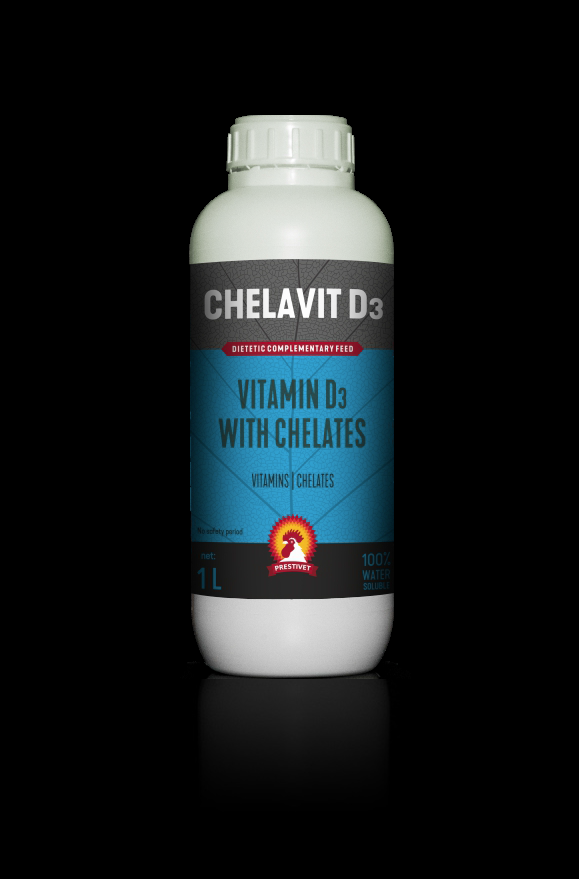 CHELAVIT D3
Vitamin D3 with chelates
CHELAVIT D3 is a preparation with a high concentration of easily digestible vitamin D3 with copper, zinc and manganese chelates and a high content of phosphorus. Its main task is to assist properly shape the bones and eggshells with the help of vitamin D3, it actively influences the proper growth process. Vitamin D3 maintains mineral homeostasis and regulates the calcium-phosphate balance. Vitamin K3 improves tissue mineralization and the addition of herbs in the mixture supports the absorption and use of vitamin D3 contained in the product.
indications
• supply of vitamin D3,
• proper shaping of the skeleton and egg shells,
• deficiency and / or malabsorption of vitamin D3,
• during intensive growth and peak laying,
• prevention of rickets, lameness, dyschondropasia and oseoporosis,
• with calcium and phosphorus metabolic disorders, with disturbances in bone mineralization and egg shells
instructions for proper use
Prophylactically: 100ml/1000L of water, for 3 – 7 days.
Interventionally: 200ml/1000L of water, for 3 – 7 days.
caution!
composition
vitamin D3, vitamin K3, copper chelate, zinc chelate, manganese chelate, phosphorus, mixture of flavoring compounds (e.g. turmeric, milk thistle, artichoke and pepper)