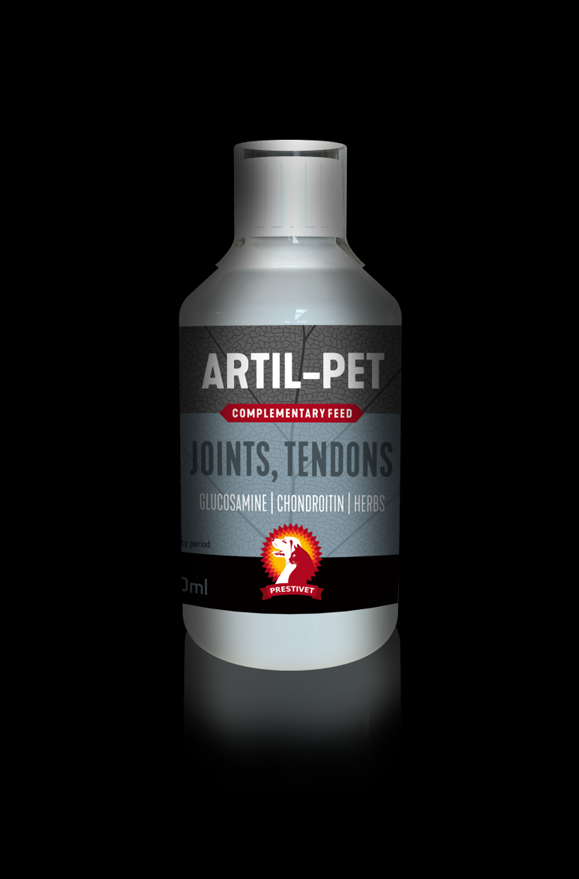 Complementary feed
ARTIL
for dogs and cats, improves the functioning of the joints.
ARTIL is a technical, highly concentrated product which includes components necessary for the proper functioning of the joints of animals. Product contains Glucosamine and Chondroitin sulphateinc and collagen which have regenerate affect on the motion system. The active ingredients increase the production of synovial fluid, appendix of mixture of plant extracts reduces inflammatory reactions, pain and swelling. It favorably affects the muscles, cartilage and joints. Recommended for dogs and cats of all ages.
indications
Glucosamine, Chondroitin, L-carnitine, methionine, collagen, a mixture of plant extracts; vitamins A, C, D3, E, iodine, selenium, manganese, sodium, and potassium.
instructions for proper use
Dogs up to 15kg: 5ml/day for 10 days, then after 5ml every 3-5 days,
Dogs over 15kg: 10ml/day for 7 days, then after 10ml every 3-5 days.
Cats up to 6 months: 2ml/day for 7 days,
Cats over 6 months: 5ml/day for 7 days, then after 5ml every 3-5 days.
caution!
composition