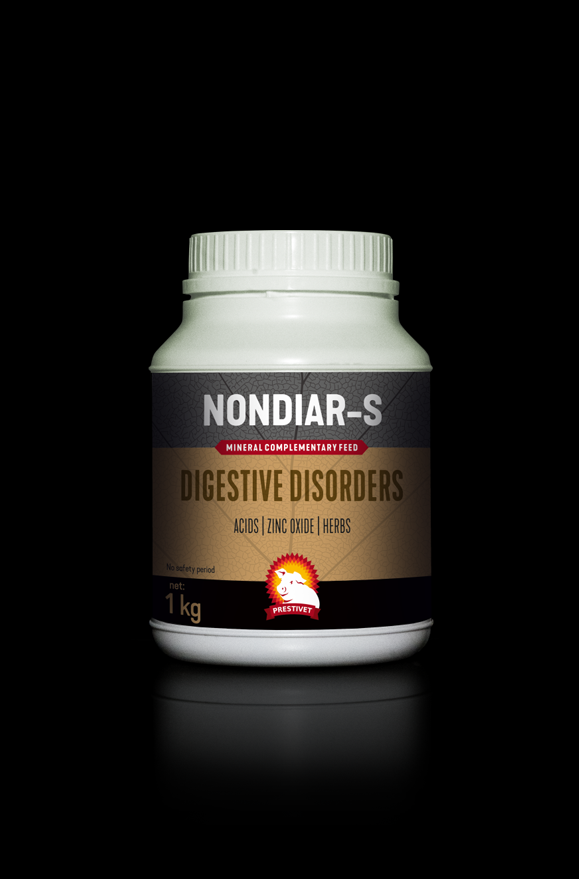 Dietetic complementary feed
Nondiar-S
Stop diarrhea
Nondiar-S is a preparation supplementing the deficiency of pig feed. In addition, active ingredients have anti-diarrheal activity, support the development of a positive bacterial microflora in the gastrointestinal tract, as well as have a strong action against harmful bacteria, fungi, viruses and parasites. The advantage of this product is that it reduces the adverse effects of antibiotics. Due to the lack of a grace period, the product can be used continuously for a long time.
indications
- prevention of diarrhea (especially recommended when weaning piglets)
- improving the appetite and digestion of feed
- reduction of mortality
- pH stabilization in the gastrointestinal tract
- immunostimulatory effect
instructions for proper use
0.5 kg / 1000 kg of feed for 3-4 days.
caution!
Do not exceed the maximum amount of zinc in the feed: 150 mg / kg.
Do not use for more than 8 weeks.
composition
Calcium phosphate, sodium chloride, potassium chloride, a mixture of flavoring substances (eg extracts, oils and / or herbal extracts), clinoptilolite, acetic acid, citric acid, phosphoric acid, malic acid, lactic acid, formic acid, fumaric acid, propionic acid , calcium formate, silica, zinc oxide.